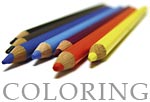 Angelikon
A Coloring Book by Stephen Barnwell

2017, 8.5 x 11", softcover, 88 pages, 40 images


$14.99 RETAIL, DISCOUNTED TO

$11.99


This is the Internation Edition, printed by Createspace. The Artist's Edition will be
available soon.

ISBN 978-0-9913216-8-1

Bring angels into your life.
Every page is a meditation on the Divine.

Every image in Angelikon is 100% hand drawn by the artist, and is printed one-side-only for better coloring and easy removal. There are 24 angel images and 12 pages of ikons, with a total number of 36 full-page drawings.


Stephen Barnwell has been an artist all his life. He has worked professionally as an artist and illustrator, his work published in books, magazines, and gaming products. He is best known for his work in the CCG games, Heresy, Kingdom Come, and Mythos. His fine art has been in over 70 exhibitions in galleries and museums worldwide, including the Palais de Tokyo Contemporary Art Museum in Paris, the Lahti Art Museum in Finland, the Marin Museum of Contemporary Art in California, and the Andrew Kreps Gallery in New York City. His work is in private collections in 51 countries around the world.

Copyright © 2017 Stephen Barnwell